Welcome
Welcome to the Scotts Valley Senior Life Association (SVSLA) website. We hope you will use these pages to learn about our association, our goals, the projects in which we have been involved and the volunteers who keep the association functioning. One thing unique about SVSLA is there are no paid employees and no rent to pay! This means our expenses are very low, allowing nearly 100% of donations received to be used to directly help seniors living in the area of Scotts Valley, California. Perhaps you are ready to contribute to this cause. Just click this

button to contribute. If you prefer, mailing your generous check is always appreciated.
Look, too, at the "About" section to meet the neighbors and friends who serve on the SVSLA Board of Directors. They are always looking for additional ways to help senior citizens in our area and would love to hear your ideas. Likely you have an idea for a project or know of a need they have not learned about as yet. Please share with them.
I'm looking forward to your support and ideas to help this great cause. Thank you!
—Dave Hodgin, President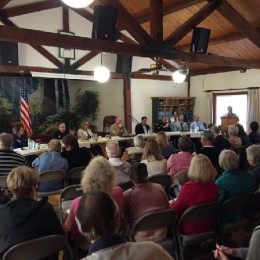 Our Mission
SVSLA is a non-profit organization established to provide education and support relating to the health and welfare of senior citizens living in the area of Scotts Valley, California. We seek to enhance and add enjoyment to the lives of seniors in the community, provide educational opportunities with a focus on healthy living habits, and provide access to facilities that help seniors create their own healthy and fulfilling lives.
Scotts Valley Senior Life Association (SVSLA)
News & Announcements
Jun 7, 2021
– Scotts Valley Fire Chief, Ron Whittle, presented these important fire safety measures pertaining to our community.
Nov 25, 2020
– Please take our brief Senior Life Online Survey to let us know how we might improve these online presentations.
Jun 14, 2020
– SVSLA launches its regular Senior Life Online workshop series where local seniors can listen to a featured speaker and meet other local senior citizens. Register today.
Nov 28, 2019
– Stay informed of local news specifically targeting senior citizens in this community at the new "SVSLA Blog".
Nov 18, 2019
– SVSLA VP George Haas gave a presentation outlining great programs where the Rotary Club and Scotts Valley High School can join forces to benefit local seniors and students. Program details will be posted here soon.
Aug 3, 2019
– SVSLA's "Nutrition Essentials for Seniors" workshop with Holistic Nutritionist, Richard B. Goldberg, PhD, was a huge success. Watch the video…
Jun 24, 2019
– Montevalle raised funds and SVSLA provided a matching grant to purchase an exercise machine for Montevalle residents.
Mar 16, 2019
– This SVSLA-sponsored Alternative & Complementary Medicine Program featured a panel of experts in the fields of acupuncture, herbal medicine, medical marijuana and nutrition. Watch the video…
Ongoing now!
– Each time you shop online you can donate to SVSLA at no cost to you. Sign up for "Amazon Smile" today.
Mar 14, 2016
– Montevalle Community Life (MCL) has grown. We have a new name, Scotts Valley Senior Life Association (SVSLA), which reflects our service to senior citizens living in the broader Scotts Valley area, while our Mission remains unchanged.
Send SVSLA your ideas. Complete our Survey